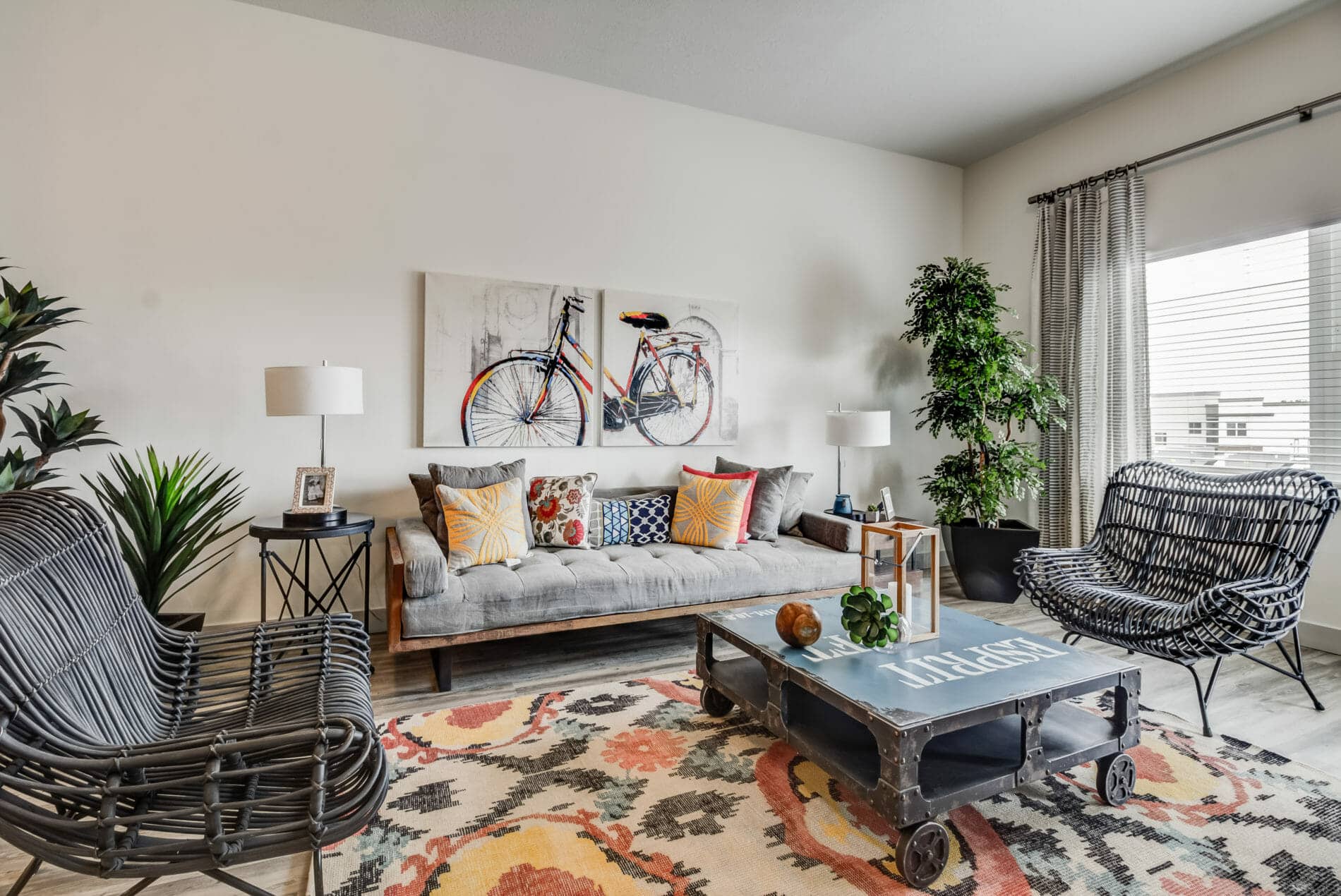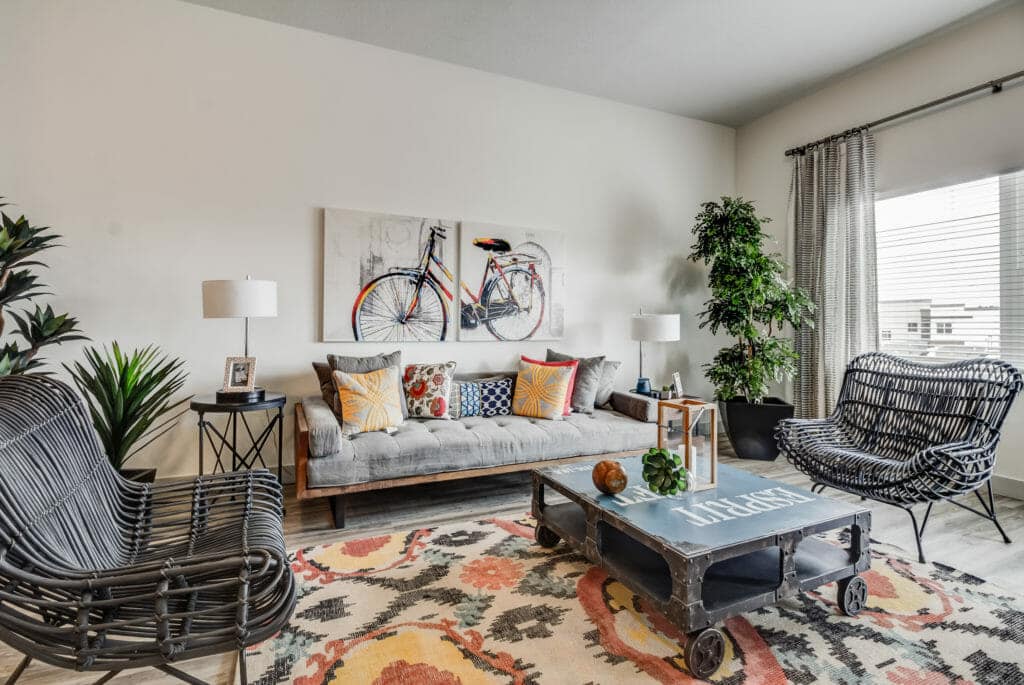 Whether you are remodeling an office space, a small house, or decorating an apartment, small rooms can be very challenging. You have the dilemma of wanting to fit in as many things into the small space as possible but don't want it to look and feel cramped, cluttered, and chaotic. The space should be filled with personality and style without sacrificing the functionality of the room.  
Here are a few ideas and tricks from our professional interior designers for decorating small spaces and fixing common interior architecture problems.
Interior Design Tip #1: Color
The first thing you do if you want your space to look larger and feel more open, is to paint your walls and ceilings a light color. Light and neutral colors will reflect more light and make the walls recede, giving the appearance of a larger space.  
Add pattern and texture to give the room some visual interest and variety. Remember that light colors can be more than just white. Soft colors can still be considered neutral, but will add warmth to make the room feel more inviting. 
On the other hand, most people think that bold color is not an option for small rooms. But if you love color, go for it….go bold! You can create a dramatic look and a completely different feeling by using darker or richer colors. You won't make the space feel or look larger, but can bring out your own style and personality. 
Interior Design Tip #2: Floor Space
No matter how beautifully decorated your room is, if it is so crammed full of furniture that you can't even walk around in the space…you have a big problem! You must have room for the basic pieces of furniture for the room to function properly. But be creative with those essential furnishings and eliminate unnecessary pieces. 
Use your walls! 
Create extra storage space by mounting furniture to the walls. Consider floating shelves or nightstands to open up some floor space. This will help keep the floor clear of obstacles and create space for extra storage beneath if needed. Instead of floor lamps or bulky tables with lamps, install sconces on the wall. Mount your TV and desk to the wall.  
For extra room, use barn doors or pocket doors to eliminate swinging doors that take up too much space.
Interior Design Tip #3: Scale
The size of a rug in a small space is really important to get right the first time. A tiny rug will look strange and make the room feel equally small. Choose a rug that is large enough so most of your furniture will sit on it or else go with wall-to-wall carpeting.  
Next, do not use pint-size furniture and decor in a small space. The key to a balanced room is to choose a few statement pieces that will really draw the eye. Then add regular and smaller size pieces to fill in the room. Consider regular-size furniture and large-scale art. Or a larger piece of furniture paired with a gallery of small wall art. 
Be sure to keep the sofas and chairs from being pressed up against the walls and tucked tightly together. Pull furnishings away from the wall and make sure there is space between pieces to breathe. 
And remember, less is more.
Interior Design Tip #4: Multi-Purpose Furniture
Not all furniture is needed all day, every day. You may need a desk, a dining table, or a spare bed once in a while, but not necessarily every day. You will free up a lot of floor space if you can install furnishings that can fold up or be hidden away when not in use or serve a dual purpose. 
You'll avoid a lot of clutter and unavoidable piles of junk and papers by having these horizontal surfaces disappear. 
Make the most of your space by finding furnishings that also have storage. For example, opt for a bed with built-in drawers or benches and ottomans with storage inside to hide away extra blankets or clothing. 
In a small space, every piece needs to be utilized in multiple ways. Maximize the functionality of each piece of furniture. A daybed can serve as both a sofa and a guest bed. A small table can be both a desk and a dining table. Poufs, benches, and ottomans that can be tucked under a sofa table or pulled out to provide extra seating.  
Interior Design Tip #5: Lighting
If your small space has tiny windows or no natural light at all, the room can often end up feeling really dark and dreary. This is a common interior architecture problem. Add plenty of artificial light to make up for the lack of natural light. 
Layer the light through the combination of beautiful ceiling fixtures, wall sconces and table lamps. These layers allow you to change the look and feel of the room by choosing different lights to turn on at different times of the day.  
Brighter light is better for certain tasks and activities….but may lack visual interest and appeal if used all the time. Softer, warmer light can create a more cozy and intimate feel. The best light bulb to use for living rooms, dens, and bedrooms is Soft White (2700-3000 Kelvin).
Interior Design Tip #6: Window Treatments
Think vertical.  
Small windows and small window coverings never make a space look or feel larger. You can hide small windows and make them appear taller and wider with a few tricks. Hang your draperies just below the ceiling and hang them wide enough to stack on the wall when they are pulled open. 
For Roman shades, mount them on the wall just outside of the window casings and hang them higher up on the wall above the window header. These design ideas will conceal the true nature of the windows, but will give the illusion that they are wider and taller. 
The color and texture of the fabrics you choose for your window treatments can also give the room a light and airy feeling or a dark and dramatic look depending on the personality of your space.
Interior Design Tip #7: Mirrors
This is the oldest trick in the book. 
If your space does not have an abundance of natural light, mirrors on the wall can help you make the room feel larger by reflecting light around the room. They can also give the illusion that there is a little more square footage. 
Consider placing a large mirror in a key area or lining a wall with a gallery of mirrors in different sizes and shapes. Consider tall mirrors on both nightstands on either side of the bed. Add mirrors above furniture to create more depth to the room. Elevate the personality of the small room by finding unusual mirrors or fun ways to hang them.
Interior Design Tip #8: Edit
Edit, edit, edit!! You don't have to display everything. 
In a small space, there are only so many things to look at and only so many places to put them.  If your furniture and accessories do not serve a purpose or have special significance to you, get rid of them! Look at all of your space with an editor's eye and make sure that the pieces really belong and look good together. Edit often to keep the small space from becoming a collection of clutter and chaos. 
"Have nothing in your house that you do not know to be useful, or believe to be beautiful."
― William Morris
We hope you enjoyed these tips from our professional interior designers to help decorate your small space. Leave us a comment or show us how you used these tips to decorate your small room or to fix an interior architecture challenge you faced.