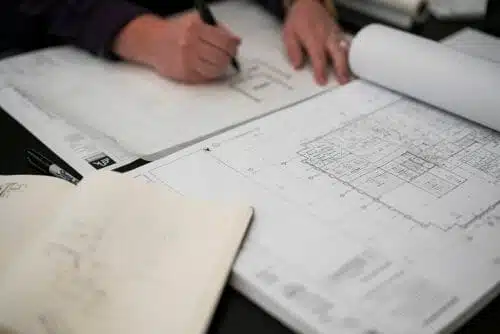 Finding ground for new construction can be a monumental challenge. Not only is it difficult finding untouched land, but it is often expensive. If you have ever taken a risk and built on a property outside your comfort zone, you understand. Sometimes it pays off, but other times it can drain your wallet getting everything ready just so you can break ground. It is also tricky because often times you are developing an area that is new to the market. While paving the way for new construction is the way many developers choose to go, there could be a better way.
Renovating abandon buildings is one of the best ways to get your commercial business going without spending any extra time and money digging deep and building out. Of course, opting for an abandon building renovation will still cost you money, take time, and include many of the same challenges as new construction. However, the renovation route could end up being your gateway to success.
Architects looking for a major transformation projection with growing values, will discover all of the advantages of renovating vacant and abandoned properties. Here is everything you need to know about the renovation process and how developers can benefit from doing so.
Everything You Need to Know About Abandoned Building Renovations
Reinventing an abandoned property involves a lot more than simply going in with sledgehammers and hoping for the best. Fortunately, communities are constantly looking for ways of re-purposing vacant properties. Not only are these building massive eyesores, but they can become major barriers in city planning efforts. Local governments who own these buildings are constantly looking for ways of revitalizing these areas by providing incentives to those purchasing the property.
Long-term vacant properties typically include abandoned, boarded-up buildings, unused lots, vacant and under-performing commercial properties, under-leased retail stores, and neglected industrial properties. The National Vacant Properties Campaign (NVPC) ultimately determines the fate of a vacant property. Ultimately when a local government seizes a property, it takes on a major expense.
Since, these seized lots and abandoned buildings drain local government of money, time, and attention, they are constantly looking of ways to pass the burden on to developers and buyers. Fortunately, architects and clients benefit from everyone else's loss. If you do it right, you can turn an abandoned building into the gem of your portfolio. Here is how architects will help you get it done.
Architects and Abandoned Building Renovations
More than ever before architects are focusing not on building something new, but breathing new life into old designs. Renovations are an entirely different task than new construction. Architects must rethink, redesign, repurpose, and re-build. Instead of starting with a blank slate, designers must take what is already there and completely reinvent it. This challenge presents a new creative opportunity for many architects.
Repurposed buildings actually offer architects and designers with a slew of opportunities. From preserving historic elements and designing around the building's history to repurposing the purpose of the design and reanimating the space, abandon property renovations often provide architects with a head start towards a great finished product.
While, the renovation trend is catching on, it has long been a part of the industry. For example, Paris's City of Fashion and Design used to be an area that lacked any discernible character. Now, it is known across the country for its unique design and ultra-contemporary structure. Another renovation that catches the eye is Singapore's Space Asia Hub. Designed by WHOA, architects combined two former homes with an all-glass cube-like structure for the upscale retail gallery hub's unique design.
Not only do these two examples prove the potential abandoned buildings offer, but they show how architecture can change throughout community developments and eras of differing ideologies. It is a developer and architect's job to determine how an old, vacant building fits into the current age. From there, they will work hard bringing their vision to life.
Commercial-Building Renovation vs. New Construction
Now that you understand the basics of abandon property renovations, let's discuss whether a renovation or new construction is the better route. Deciding between the two could be the first major decision you make for your new business endeavor. Here are a few things to consider:
Budget
Return on Investment
Timeline
Restriction
Durability
Looking at those factors you can better determine whether remodeling an abandon property provides you with the best chances of success. Along with your personalized factors, commercial-building renovations also offer a unique starting-off point. One of the main elements that plays a role in many developers and business owners decision between renovation and new construction is the current state of the property.
Many abandoned buildings may look dismal from faraway, but at a closer look you can find their underlying beauty. Stripping back all the dirt, grit, and grime, you can discover the structure's bones. Decide whether this is a canvas you can work with or whether you have a better idea in mind. Our team of architects then suggests that you factor in everything else after understanding what you are working with. If, after considering all sides of the project, you see promise of success, go for it! You won't be disappointed with the result.
Get Started
If you are looking to renovate a commercial property near you that has long been vacant, look no further than the architectural design team at Think Architecture! You can learn more about our commercial remodeling services, as well as, our new construction projects and more. Contact us to get started.