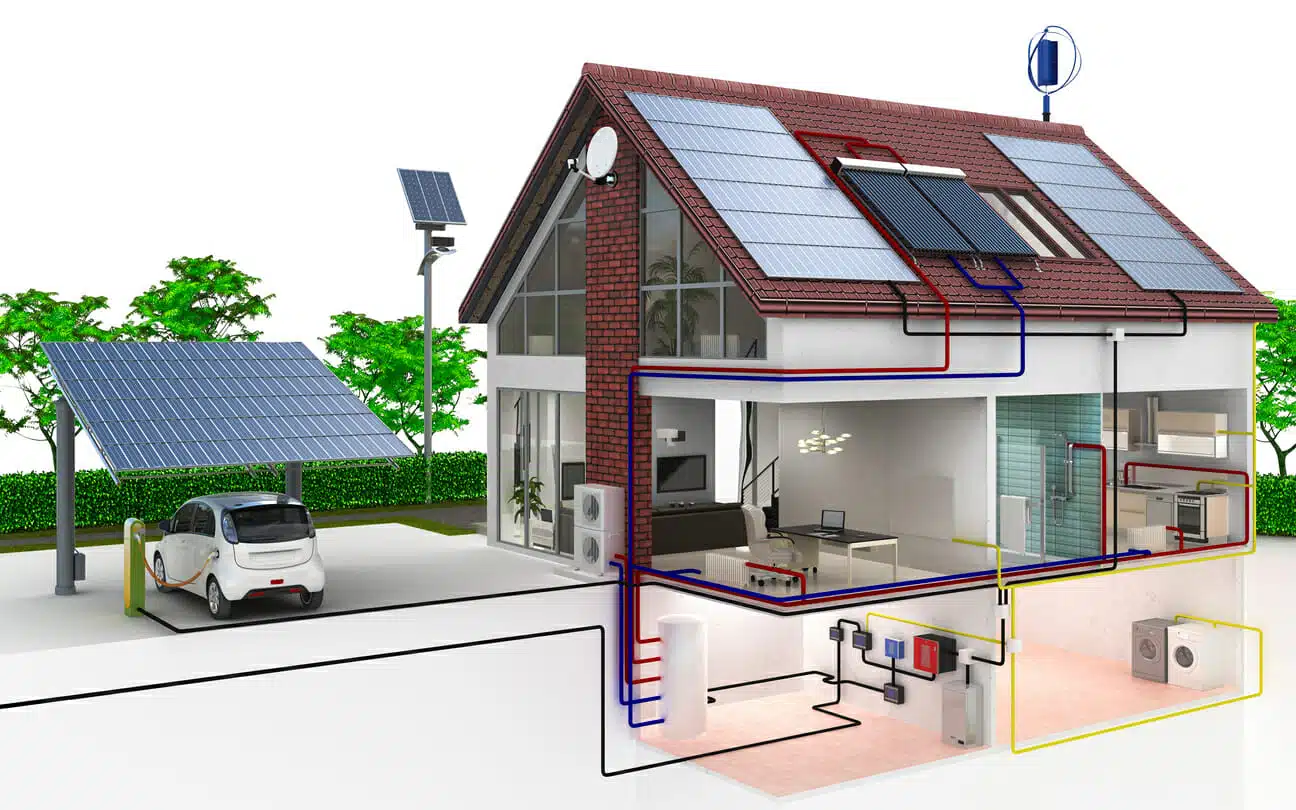 Today it's possible for any structure to be net-zero — but what's the difference between zero energy ready and zero energy? If you're interested in net zero-ready construction, find out what considerations go into a zero energy-ready home.
What You Should Know About Net Zero Home Design
In 2008, the United States Department of Energy (DOE) launched the Zero Energy Ready Home program. For the first time, it provided a clear pathway for new construction homes to eventually offset annual energy consumption with renewable energy. 
Within the last 10 years, the DOE has considerably broadened its programs. While accelerating the market for zero-energy buildings, the DOE offers new guidance and requirements for everything from large-scale commercial buildings to zero-energy school design.
Today, it's possible for any structure to be net-zero. Yet data from the Rocky Mountain Institute points out that zero energy and zero energy-ready homes currently make up less than 2% of residential construction. 
Outdated cost assumptions are largely to blame for the small percentage in this sector, but as cities across the U.S. continue to roll out ambitious plans for a low-carbon future, the opportunity for net-zero home builders is perhaps greater than ever. 
What Is a Net Zero Home?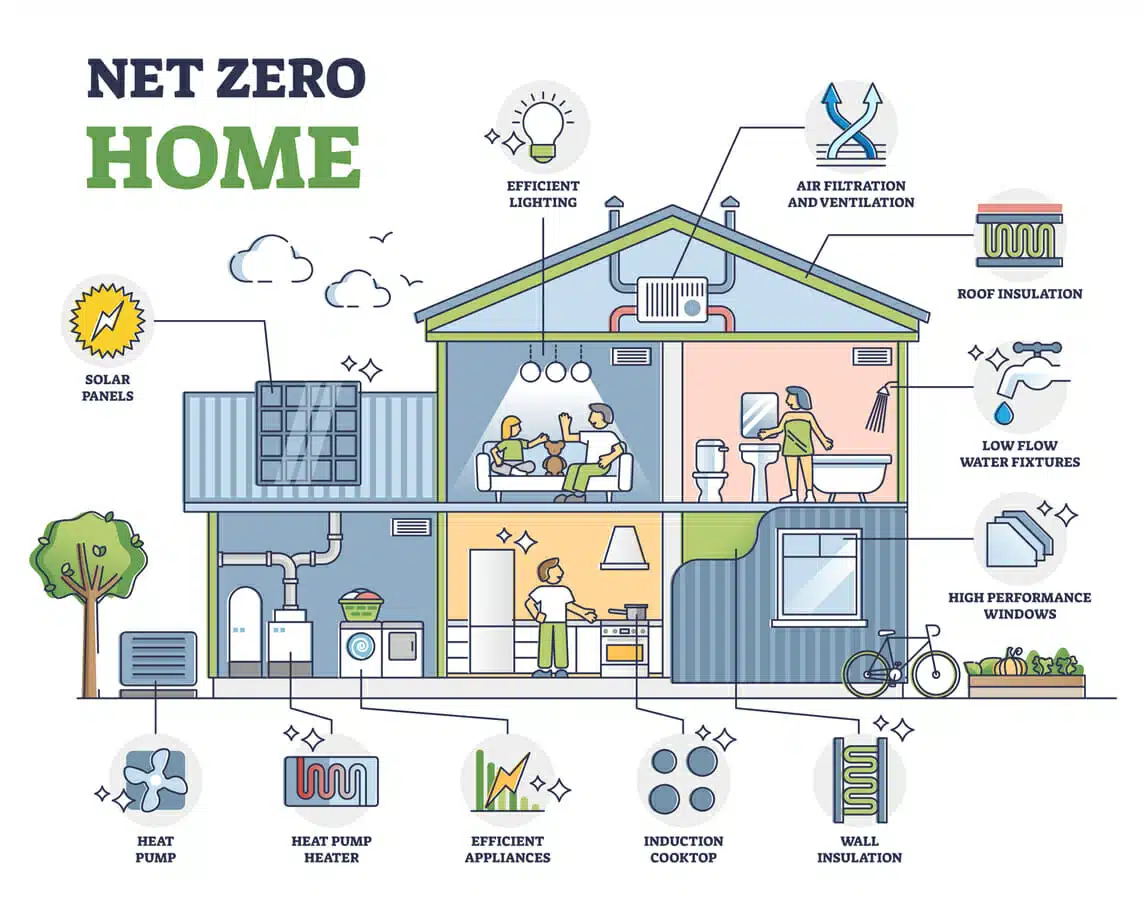 The Department of Energy defines a zero energy ready home as a home that is so efficient that all or most annual energy consumption can be offset with renewable energy. Called "The Home of the Future" by the DOE, these homes differ from zero energy homes in that they have all the needed appliances and infrastructure to eventually become net-zero. 
For example, homes that are designed and built for future solar photovoltaic (PV) installation are net zero ready because they allow homeowners to move toward a goal of net-zero when they have the necessary financial resources. However, zero energy construction involves significantly more than just solar panels and energy-efficient appliances. 
To receive DOE Zero Energy Ready certification, homes must be designed and constructed based on rigorous guidelines set by the federal government. These guidelines are based on three innovations:
Maximum protection construction

: This includes industry-leading best practices for roof, wall, window, and foundation assemblies. 

Advanced technologies

: Construction includes a robust technology package including solar-ready construction and Energy Star products.

Certified performance

: All homes are independently verified to meet requirements for three programs, including ENERGY STAR certification, Indoor airPLUS certification, and Zero Energy Ready Home certification. 
Why Build a Net Zero Ready Home?
It's difficult to ignore the rising sense of urgency surrounding climate change. By prioritizing net zero-ready construction, builders from all sectors have an opportunity to be at the forefront of efforts to mitigate the effects of climate change.
Our team at Think Architecture has seen the benefits of net-zero construction for builders from both the commercial and residential sectors. For commercial builders, developing net-zero energy buildings often aligns with wider goals at the corporate level, as a response to new regulatory mandates from cities and states moving toward zero energy targets.
Residential net zero home builders can differentiate themselves by appealing to the increasing number of new buyers who value the investment in eco-friendly buildings. While net-zero homes are more costly to design and construct, builders can confidently offer not only the promise of a more durable and resilient home but also significant cost savings in energy use. 
According to a recent report, The Economics of Zero-Energy Homes, the Rocky Mountain Institute notes that the cost increase to build a zero-energy ready home is modest, with incremental costs of 0.9%–2.5%. Additionally, the report cites a survey where consumers say they would be willing to spend an average of $10,732 more for every $1,000 in annual energy savings. 
While some potential buyers might be interested in long-term cost savings, ultimately, they are investing in their health and comfort through homes that are built not only for maximum efficiency but for an optimal lifestyle. 
Considerations for Net Zero Home Builders
According to the DOE, a zero energy-ready home is at least 40–50% more energy efficient than a typical new home. It also generally carries a Home Energy Rating System (HERS) Index score in the low to mid-50s, depending on the size of the home and the region in which it is built. 
Considerations for net zero-ready construction are based largely on program requirements, which are centralized to energy efficiency, as well as both water and energy conservation and management.
In a net zero ready home strategy, the most important consideration is the building envelope which includes windows, doors, flooring, roofing, foundation, and insulation. If it's developed to be air-tight and highly insulated, it offers the highest potential for long-term energy savings.
Often, a net zero-ready home will also include optimizations consistent with the requirements of other programs related to water conservation and management. The EPA WaterSense program is specifically designed to make homes at least 30% more water efficient than typical new construction. 
WaterSense certification is achieved by design and construction that utilizes efficient plumbing and water-using products, as well as efficient plumbing distribution systems and even landscape irrigation controllers. 
Ultimately, according to the Rocky Mountain Institute, there isn't a one-size-fits-all solution for constructing cost-optimized zero energy-ready homes. That said, it's important for builders to collaborate with architects early in the process to ensure the most important considerations are met before addressing any additional complexities from the client. 
Think Architecture: Experts in Net Zero Home Design
Whether you're considering a net-zero building for a commercial or residential property, the experts at Think Architecture have the experience to help you navigate the complex construction process.  Visit our portfolio to explore some of our latest net zero-ready home projects. And when you're ready to get started with your next project, contact us here.