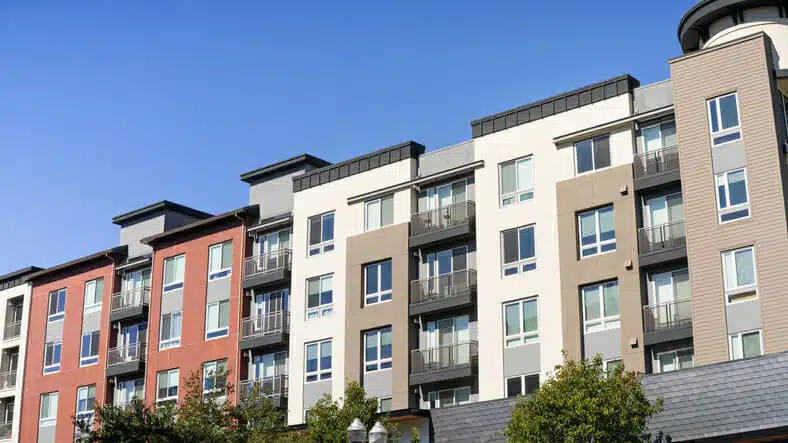 What is Mixed-Use Real Estate Development?
Smarter land planning and community development are driving enormous changes in the real estate market. Governments are zoning for mixed-use real estate development to reduce environmental stress and facilitate better work-life balance. 
Mixed-use development architecture is defined as a pedestrian-friendly blend of residential, multi-family, retail, commercial, and office space that incorporates lifestyle amenities that encourage fitness and community. Mixed-use real estate projects can range from single buildings to broader communities that incorporate multiple types of buildings.
At Think Architecture, our team of architects in Utah has designed high-profile mixed-use real estate development, utilizing our expertise in mixed-use development architecture, incorporating multi-family architecture, our landscape designer, and commercial office space architecture. To view examples of mixed-use development projects designed by Think Architecture, view our portfolio.
First, let's explain what mixed-use development architecture is and how mixed-use real estate development can increase land value and your return on your investment.
What Is Mixed-Use In Real Estate?
Changes in attitudes towards work-life balance have led to an increase in demand for areas where people can live, work, and play in one comprehensive community. Mixed-use in real estate means that a property or area is used for three or more purposes. Zoning will incorporate residential with multi-family, office, commercial, industrial, or retail spaces along with community spaces. 
Mixed-use in real estate can take two forms—vertical and horizontal development. 
Vertical mixed-use real estate development can be seen in larger, high-rise multi-family buildings that incorporate condominiums or apartments on the upper floors, with office spaces or business centers below, and retail or commercial space on the ground floor. 
Horizontal mixed-use developments are broader development projects that incorporate townhomes and condominiums around community facilities and amenities, including mass transportation, parks, fitness facilities, and more. These also have office spaces and retail shopping centers within a short, walkable distance. Horizontal mixed-use developments incorporate land planning with our landscape designer to unify the community design.
What Is Mixed-Property Development?
Mixed-property development is a form of horizontal mixed-use development. Local boards can facilitate mixed-property development by zoning buildings as residential and non-residential in the same block or plat or within a single area. Rather than placing commercial or industrial areas outside of residential areas in large blocks, the zoning is often done in conjunction with a land planner and is zoned building by building. 
The advantages of mixed-use property development are enormous for the long-term sustainability of an area. Not only do mixed-use developments encourage economic development for investors and business owners, but they also provide economic benefits to residents as well. When people work, live, and play in the same area, their transportation costs are reduced significantly. 
There are health benefits for the local community as well. Having reduced commute times means that people have more time to participate in recreational and physical activity. A well-planned mixed-use development will have plenty of walking trails and fitness facilities. At Daybreak in South Jordan, for example, a community pond allows paddle boarding, and nearby parks provide open space for recreation, volleyball courts, baseball fields, playgrounds, and more. 
These recreational areas also offer social benefits, promoting community connectivity. Shared social spaces foster shared community initiatives and promote neighborly behavior. 
Finally, investors realize a higher ROI on their investment for several reasons. The desirability of the location and proximity to schools, libraries, and community centers creates demand, which raises the prices. Plus, when properties are clustered closer together, property management and maintenance are easier and more cost-effective.
What Is An Example of Mixed-Use Development?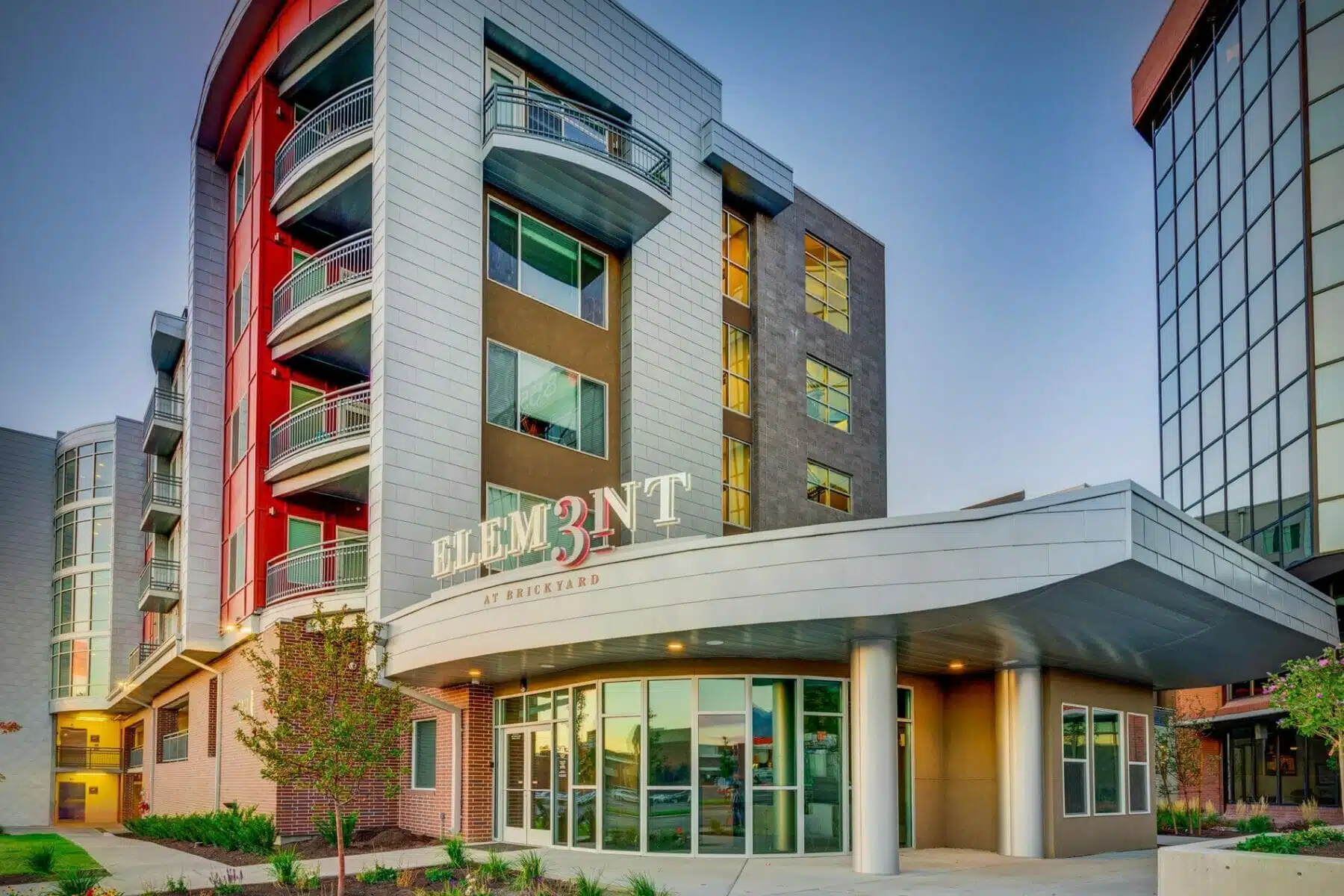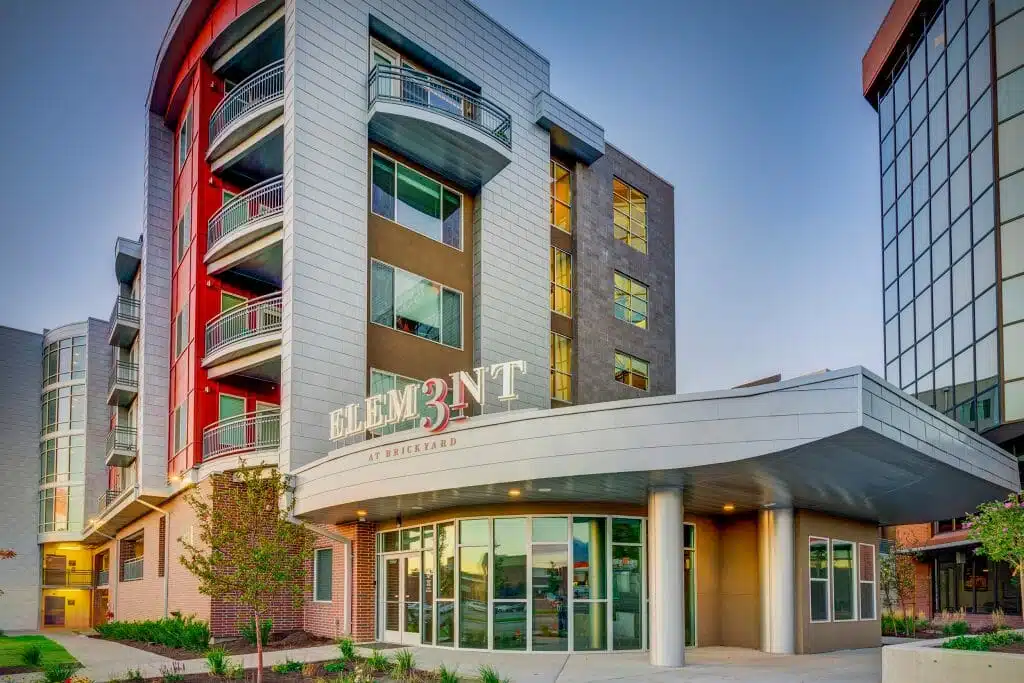 Think Architecture has been responsible for the design of several high-profile mixed-use developments. Our team of architects in Utah has an extensive portfolio of mixed-use properties.
A vertical mixed-use real estate project completed by Think Architecture is the Element31 at Brickyard. This four-story multi-family building incorporates 208 residential units wrapped around a commercial office unit. To add to the community-friendly ambiance, various amenities including a pool, lounge, outdoor movie theater, and dog park are included for residents and workers. 
Another example of a vertical mixed-use architecture project by Think is C9 Flats in the 9th District in Salt Lake City. Over 97 apartments offer affordable housing, with additional apartment spaces that offer a blend of living and workspaces. Community amenities such as a fitness facility and sky bridge add to the livability and improve the work-life balance for residents.
Horizontal mixed-use architecture developments by Think Architecture include the famous Crossing at Daybreak and The Meadows at Riverwalk. Both incorporate condominiums or townhomes with family-friendly community amenities, including clubhouses and pools.
Is Mixed-Use Property A Good Investment?
Mixed-use property is an excellent investment for several reasons. It allows your income stream to be diversified across multiple types of tenants—residential and commercial. Diversification of income streams helps provide less risk. If one investment goes wrong, it can be counterbalanced by other rental streams. 
Because there are a variety of tenant types and several different tenants in one block, vacancy rates are reduced, making the investment even more secure. Multiple zoning opportunities allow for flexibility for tenant types. So if demand is greater for retail vs. office space, those areas can be quickly converted to meet the needs of the community. Finally, desirability and increased demand mean these properties are often high-profile and sometimes realize a greater return than properties that are zoned for only one use.
In the past, investors have steered away from mixed-use developments because of the complexity of the underwriting process when getting loans. However, since mixed-use real estate projects have become more common and desired, it's become easier to finance these large projects. 
Also, mixed-use developments have proved to be highly profitable and lower risk than other types of developments because of the variability and spread of risk across multiple types of tenancies. This long-term track record has given lenders and investors more confidence when investing in mixed-use real estate projects. In fact, market data shows that premium rents can be charged for mixed-use developments. Combining residential apartments with retail space provides a 5% or better rent premium.
Planning A Mixed-Use Real Estate Development? Contact Think Architecture
Think Architecture has provided the design and plans for multiple mixed-use developments in Utah. From adaptive reuse projects to broader community planning and landscape design, Think Architecture can help consult with you on land acquisition to design and construction management. We provide comprehensive architectural design services and construction management oversight from conception to completion of the entire mixed-use development project. 
To learn more about our mixed-use development projects or to hire Think Architecture to design and build your next mixed-use real estate project, call us at 801-269-0055.