Modern commercial architecture is bringing a variety of new ideas into the spotlight. As we continue to expand the way we think of traditional buildings, monumental designs will break new ground. In recent years, architects have started using materials in new and unique ways. Let's explore how the materials used for exterior facades are getting a makeover, and whether these changes should stay or go.
Latest Community Developments
Current trends in commercial architecture range but exterior building materials are continually evolving in new and different ways. Since the façade of a commercial building is the first impression it gives, expanding the types of materials used offers architects a new way of standing out. These unusual exteriors boost authenticity and provide businesses with a face for their brand, which is crucial in a world where people are longing to connect.
Forget relying on traditional brick and mortar arrangements. Instead, architects are taking concrete, glass, metal, and wood, and combining them all in new and exciting ways.
Here are a few of the latest designs that are leaving us in awe.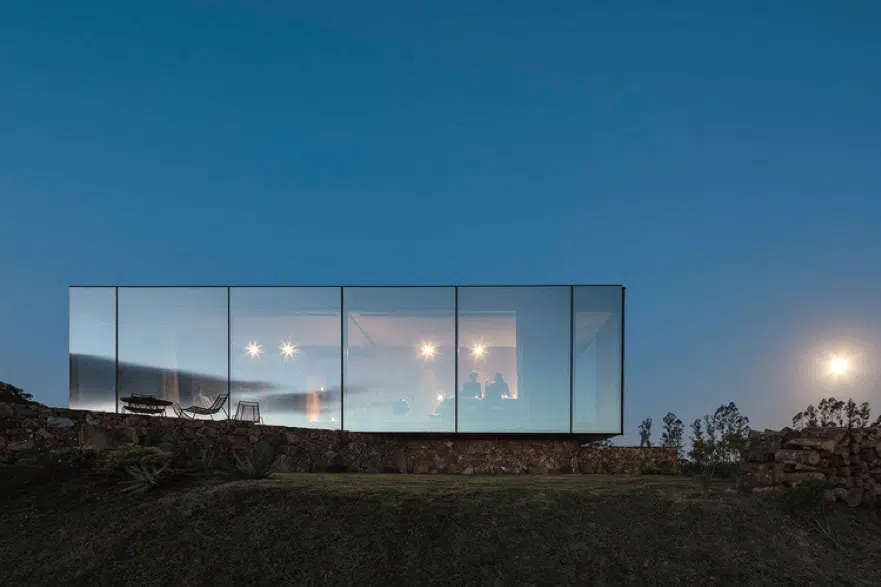 Sacromonte Landscape Hotel Shelters by MAPA 
Architects: MAPA
Location: El Edén, Departamento de Maldonado, Uruguay
Photography: Leonardo Finotti
This structure designed by MAPA is a beautiful minimalistic structure that emphasizes the beauty of its surroundings. Sitting among vegetation, the building looks as if it was born out of the earth rather than intruding upon it. Not only does the glass exterior lend to these feelings, but it also allows for visitors to have precisely what they are looking for—the view.
Ruby City by Adjaye Associates
Architects: Adjaye Associates
Location: San Antonio, Texas
Photograph: Courtesy of Adjaye Associates
While we patiently await the completion of Ruby City, this vision created by Sir David Adjaye is already turning heads. The building, named after its bold façade, will be an art center funded by artist, collector, and philanthropist Linda Pace. The museum will hold 800+ works of art with 14,000 square feet. While the building has yet to open, this up-and-coming structure is already making a bold statement in the architecture community.
The Emma and Georgina Bloomberg Center at Cornell Tech
Architects: Morphosis
Location: New York
Photograph: Courtesy PPG
Erected in the heart of the new Cornell Tech campus in New York, this four-story building is one of the most distinctive structures on campus. From the exteriors balance transparency to its unique rain screen systems, everything about the Center projects modernism in its highest form. In fact, the façade utilizes Zahner's Louvered ZIRA™ system to create the image patterning. This imaging works using an algorithm developed in collaboration with Cornell and MIT students that adjusts according to the light. If that doesn't scream modernism then we don't know what will
Now that we have discussed a few of the latest facade designs, let's look at four materials that stand out among the rest.
4 Unique Materials Used For Commercial Building Exteriors
Concrete
Exposed concrete is one of the most optimal choices in today's commercial designs. Concrete offers an elevated industrial look and is quite popular among many developers for its low cost and high value. Many architects combine the solid look of concrete with a warmer element like wood. This can make the overall structure look elevated with contrasting elements.
Glass
Besides cement and concrete, for a stunning facade look, many commercial building owners are turning to glass and metal treatments. Just take a look at two of the three buildings mentioned earlier, glass was a significant part of their overall look. Not only does glass provide an impression of luxury, but it also flows with its surroundings seamlessly. Another reason many architects are utilizing more glass in their designs is new technological developments that help maximize insulation without losing any exterior views.
Woven Wire Mesh
While architects cannot use woven wire mesh for the entirety of the structure, it is often used in conjunction with others. Woven wire mesh and other expanded metals offer functionality in a fun and exciting way. This newer façade material also helps strike a delicate balance of allowing natural light in without all of the glare provided by the sun.
Material Technology
Another popular choice rising in the ranks among the industry combines technology into the building materials. Smart building design improves the overall function of the building by reimagining possibilities. Just as the Bloomberg Center at Cornell used an algorithm to adjust the structure as needed, other façade designers are trying new materials to change things up. Another example comes from material technologists Decker Yeadon. Their designs comprise two sheets of glass with new material that acts like a muscle. This material expands or contracts based on the temperature of the outer surface.
All in all, it is time that your architect expanded their views on façade materials. To learn more about the latest design trends, contact our team at Think Architecture.