House Design of the Future: What Will It Look Like?
Architecture is an art and a science. It balances design and engineering to create living spaces that speak to us on a human level. A big part of the human spirit is the drive to discover and create new ways of looking at and inhabiting the world. That spirit of discovery feeds our ambitions. It's what drove us to develop rockets that can send us beyond the bounds of the earth. It also provides ongoing interest in futuristic design.
Futuristic home design first became popular in the 1950s. In the decades following World War II came the space age. In general, society embraced the feeling of new beginnings brought on by the war's end. The rapid development of technology as we raced to the moon showed that we were living in a new modern age. People were looking to the future and imagining what could come next with great anticipation. The spirit of the space age and the embrace of technology were reflected in the futuristic house designs. They have continued ever since.
As technology changes, so do the parameters of futuristic design. However, some of the driving principles behind futuristic architecture remain the same. Architects to this day still work on designing the home of the future. Let's explore some of what designing a futuristic home means today.
Futuristic Homes
Since the beginning of the futuristic architecture movement, people have been prognosticating what tomorrow may bring and using their imaginations to influence their thoughts on designing houses of the future.
Futuristic architecture tends to incorporate nontraditional shapes into home designs. It uses long, often curved lines. The idea is to evoke sleekness and utility. Futuristic houses also tend to feature less traditional building materials, like glass, leather, metal, and plastic.
Technology also plays a significant role in designing for the future. Futuristic home design architects also need to consider and anticipate technological developments that may affect houses of the future. Futuristic houses will be homes to futuristic people. They will likely want all the convenience of modern technology integrated into the design of their home. However, the home's functionality should work hand in hand with the stark, sleek futuristic design.
Futuristic Home Architecture
While many of the concepts that evoke futuristic design remain consistent, futuristic home styles could have a variety of themes, like nature, outer space, or sustainability. These themes combine with the basic ideas of futuristic design and manifest in various ways in a specific building.
Futuristic floor plans are also nontraditional. Rooms may be rounded and not have a clearly identifiable shape. Some futuristic houses eliminate hallways and staircases.
In densely populated areas, futuristic designs could embrace the more sci-fi theme by coming in modular blocks that can stack together to create modern buildings, almost like building actual structures like assembling a Lego creation.
Rooms in a futuristic home should accommodate the utility needs of modern living. Kitchens should have plenty of power outlets and even built-in USB outlets. The porch should be wired for a doorbell cam, and the whole house should be set up to incorporate smart home technology. Don't forget to include a charging station for an electric car in the garage.
Futuristic Home Interior Design
The architecture will only get you part of the way to a futuristic house. You'll need some futuristic interior design to take your futuristic home across the finish line.
The futuristic home design generally sees minimalistic design and decor. The shapes are usually strikingly geometric or starkly not geometric. They often feature large areas of uninterrupted color accented by a deliberate contrasting color in another part of the room. The base colors are often black, white, or gray. The accent colors may also be black, white, or gray, along with red, yellow, blue, or green.
Your futuristic, modern house won't look cutting edge if it's filled with furniture from a decade ago. Furnish your futuristic home with unique features that accent the futuristic look of your home. In some cases, futuristic homes adopt a retro theme that incorporates styles from the 50s, 60s, 70s, or 80s. In these cases, using period-specific furniture is appropriate.
Use dark or accent colors on the furniture in your futuristic home interior.
Futuristic Home Decor
A futuristic home interior will vary significantly by theme. The more consistent you can stay with your theme, the more futuristic your home will look.
Keep decorations to a minimum. While staying consistent from piece to piece is important, don't overdo it with the decorations. Remember, the future is minimalist and utilitarian. When you decide to incorporate some art into your futuristic home design, look for surrealist paintings and sculptures that toy with geometric concepts.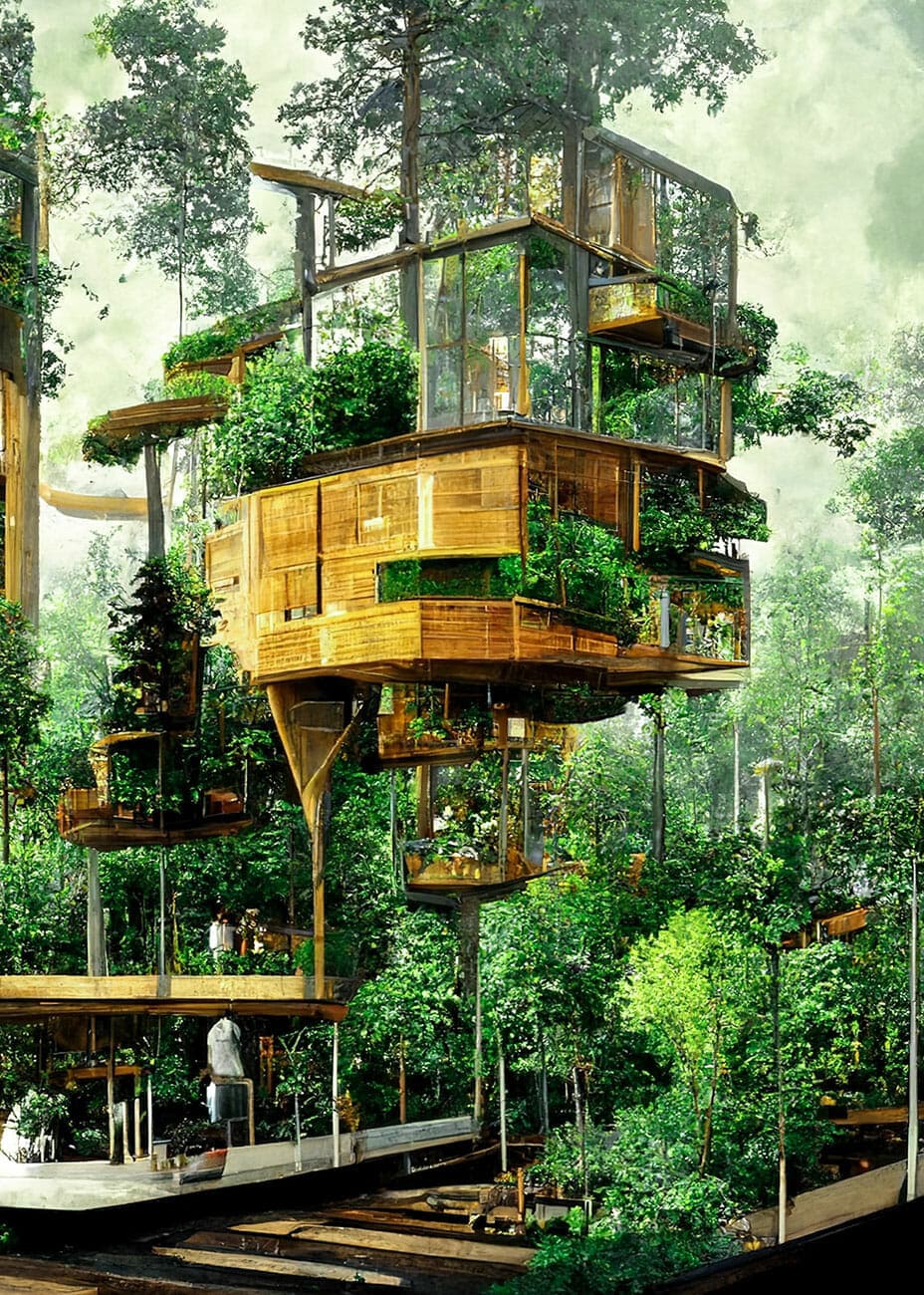 Futuristic Landscaping
Establishing the futuristic feel begins before you get inside the house. Futuristic landscape architecture often incorporates the home or other buildings on the property into the land itself. Is that a rolling hill? No, it's a futuristic house built into the countryside landscape. This type of futuristic landscape design feature is more common among nature-themed futuristic homes.
Some futuristic homes incorporate modern organic architecture, using trees and bushes as structural, decorative, or utilitarian elements of the house.
Future House Style Trends
Futuristic homes vary greatly. While a few commonalities bind them together into the same design category, the themes used from building to building keep each futuristic home looking unique.
That's why you can find a variety of futuristic houses, including the following: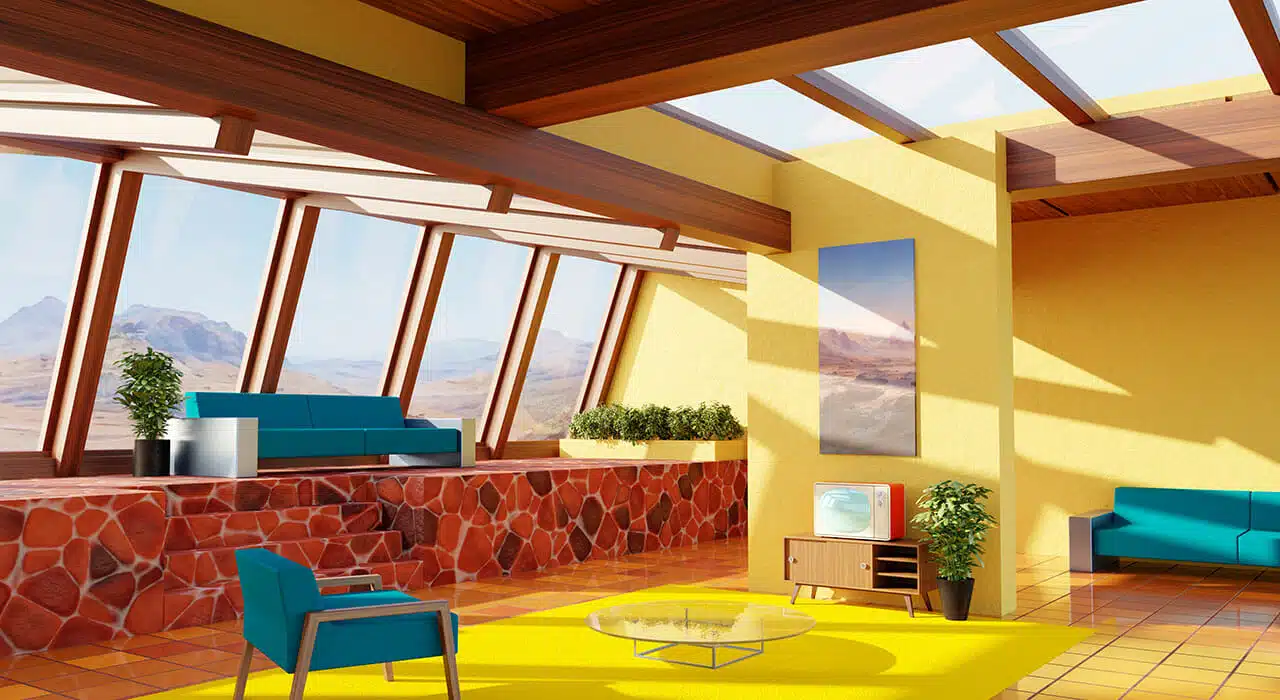 Design Your Futuristic House with Think Architecture
As you can see, there is no one-size-fits-all approach to futuristic home design. However, if you want a unique, futuristic-looking home, pick a theme and follow some basic principles.
Contact Think Architecture to help design your futuristic home. We have a deep portfolio of architectural accomplishments and are always on top of modern trends. We understand the elements of futuristic design and can apply them to help you achieve a sleek futuristic home with the theme of your choice.
Stop living in the past. Design a futuristic home with the help of Think Architecture.
See How Think Architecture is Already Using Some of These Trends
Think Architecture is at the forefront of architectural design trends and green architecture. View our portfolio and our past projects to see how we have incorporated some of these techniques into our designs.
View Our Portfolio